3 Reasons Why You Need Ginger & Turmeric to Overcome Joint Stiffness


3 Ways To Overcome
Joint Stiffness
With Ginger & Turmeric

If you've ever experienced Joint Stiffness... You need to listen up.
Ginger and Turmeric are a super duo. Unfortunately, both Turmeric and Ginger are quite horrible in taste (even though the benefits of these two are exceptional).
But there is ONE WAY to consume your daily dose of turmeric in THE MOST DELICIOUS WAY. That's where gummy supplements come in. The greatest power of this combination is the ability to provide relief from chronic pain. Ginger & Turmeric gummies are PACKED with the benefits of these two superfoods and it's the best solution when it comes to fighting agony in your stiff joints (and not only joints).
1. Turmeric decreases pain
Curcumin is an active component in Turmeric and is known for its antioxidant and anti-inflammatory activity. These gummies are loaded with all that's best about Turmeric - they help fight chronic pain and relieve inflammation by reducing nitric oxide.
2. Both provide vital cardiovascular and immune health support

A combination of Turmeric and Ginger is known to work wonders for immunity (strong immunity is also crucial for fighting stiff joints!) - these two might also reduce the possibility of different heart diseases by helping to improve blood circulation and regulate cholesterol levels. Moreover, Turmeric and Ginger are scientifically proven to possibly aid the prevention of Alzheimer's, cancer, diabetes, and various infections
3. Ginger reduces inflammation

Widely accepted as the number one anti-inflammatory food, turmeric has been used by ancient Chinese practices for centuries to prevent heart disease, Alzheimer's, and cancer. Turmeric is an extremely potent anti-inflammatory source.
Coupling the powerful healing properties of turmeric with ginger, you receive a powerful anti-inflammatory duo that works relentlessly to minimize chronic inflammation in the body to protect your tissues and organs from breaking down.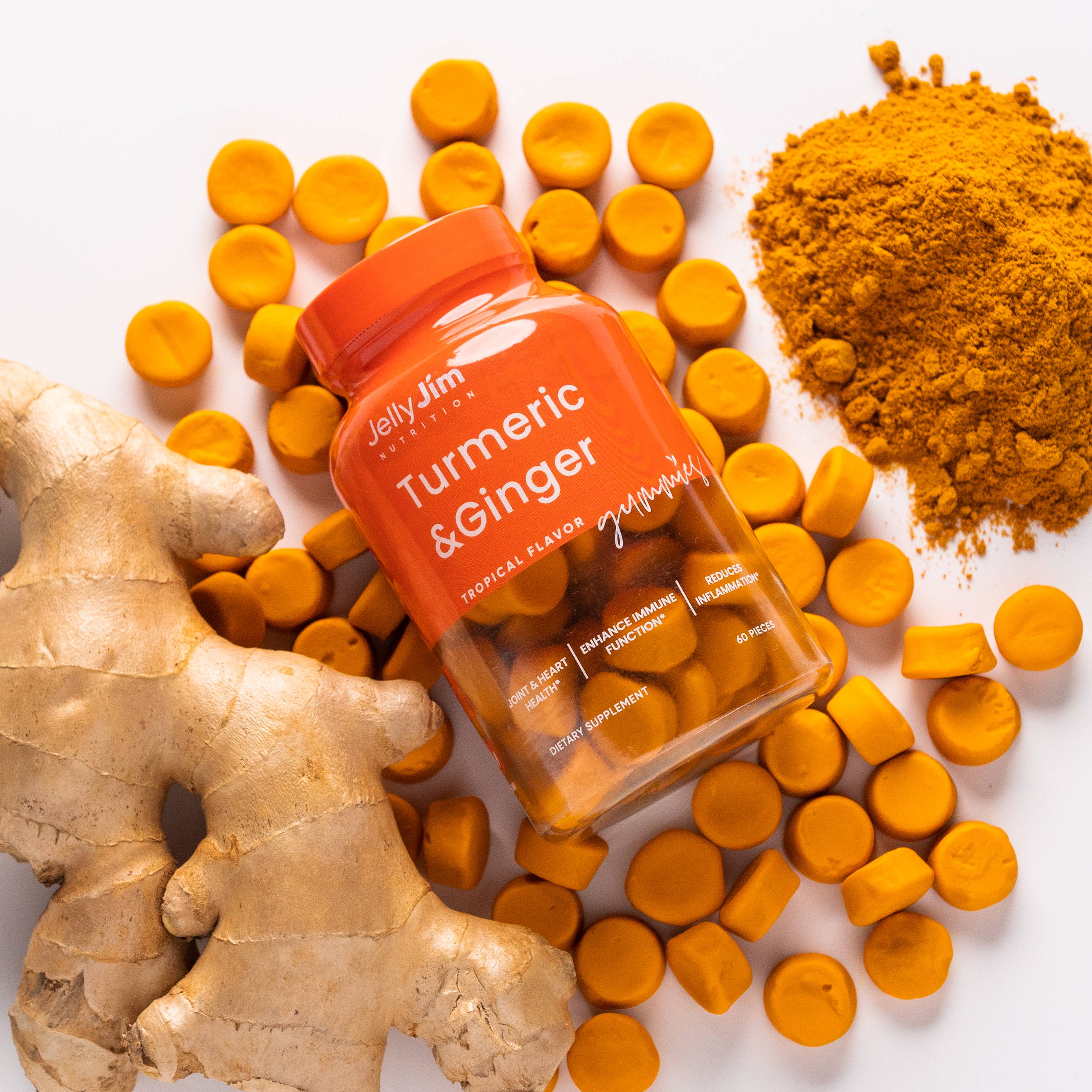 With over 10,000+ satisfied customers and over $4.5m spent in research and development, the JellyJim Turmeric and Ginger gummies offer a daily supply of turmeric and ginger to not only decrease inflammation but reduce chronic pain while supporting joint health and boosting your immune system.
The 60-DAY 100% MONEY-BACK GUARANTEE allows you the freedom to experience this powerful anti-inflammatory duo WITHOUT ANY RISK. If you don't get the benefits - you'll get a refund, no questions asked.
Offer only lasts while stock lasts! At the time of this writing, there were less than 130 bottles left:

Listen To What the Doctor Has To Say About It

Get Yours Now & Save Up To 30%
Choosing a selection results in a full page refresh.
Press the space key then arrow keys to make a selection.